Salvage Freddy (Yes this is a remake, Yes I think the last page phased out of existence) Is a more withered Withered Freddy, Nothing more! Starter point: room 13. Relations (In way of creation) Toy Golden Freddy, Gen 3 Freddy, Salvage Golden Freddy. Salvage Freddy only has his lower jaw for the head, missing his body entirely except a tad bit of suit near his bowtie, lower legs are missing and so is his left foot.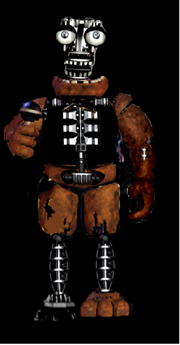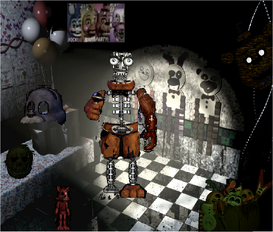 WARNING THIS WILL SPOIL MOST OF THE TRUE LORE!!!!*
The reason why Salvage Freddy is broken (Including voice-box) Is because the night guard, Jeremy Fitzgerald, William Afton, and Fred (The owner) Had to dismantle the animatronic because of; A. It almost killed Fred via what would be the Bite of 83. And B. They needed more parts for the new location called: Freddy and Fredbears pizza party funtime. Until...William finally SnAppED and grabbed a baseball bat, and Just WeNt CraZY...
-SPOILERS OVER-
S.F. Starts off in cam 16, (Shown to the right.) then moves to cam 08, 15, 03 then 01. Then appears in the doorway of the office.
Salvage Freddy (Or S.F for short) Starts with the animatronics: Foxy plush, and _IT_